Date
Saturday 25th March, 2023
Time
"Come and Try Mandolin and Mandola" workshop 3.00 – 5.00 pm. Concert (MMO and Mezzacapo Ensemble) 6.00 pm.
Venue
St. Luke's Church Centre, Victoria Road, Cambridge. CB4 3DZ
Tickets
Concert tickets £12/£10 concessions, please use this link to book.
Afternoon workshop is free but please use this link to let us know you are coming.
Comments
The exact content of the workshops will depend on the level and experience of participants. Use the link above to tell us a little about yourself any previous musical or mandolin experience, and we will make sure there is something for you.
About the Mezzacapo Ensemble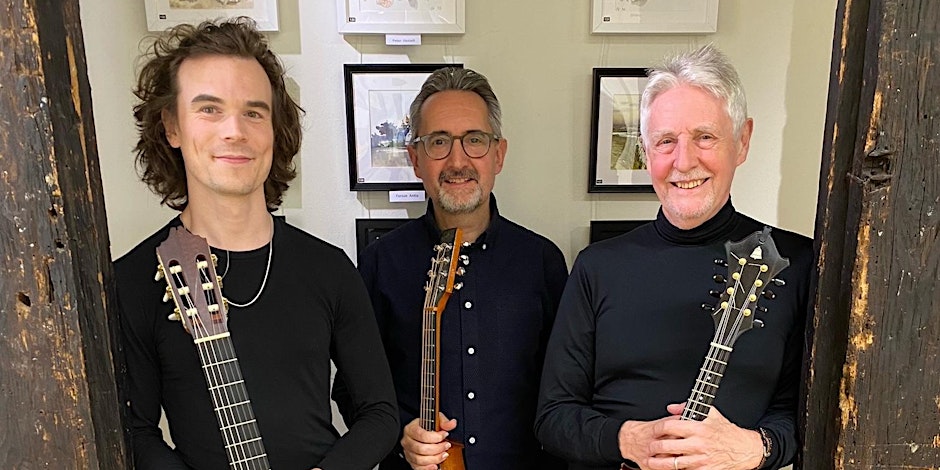 As a founding member of the London Guitar Orchestra, and having taught Classical Guitar for many years, Stuart McGowan is now concentrating on his Mandolin playing, and has uncovered a wealth of material from a wide range of musical eras and sources to arrange for the instrument – especially for Mandolin Ensembles.
Jamie MacRae studied at Napier University in Edinburgh and later at the RNCM in Manchester and has performed across the UK. He has been involved in a broad range of chamber music, most recently in duets for the underutilised combination of Mandolin and Guitar with Stuart McGowan. Jamie is currently based in London where he is a sought-after teacher and continues to study and perform.
Rob Garcia has played solo and duo recitals across the UK and Europe. He performs with his duo partner, Paul McNamara, in the acclaimed folk duo Na-Mara. In recent years they have built an enviable reputation for fine story-telling and musicianship, performing in venues and festivals across the world, and on BBC Radio 4 and a plethora of internet and local radio stations. Rob plays Mandolin, Mandola, and Classical Guitar in the duo. Rob recorded the duo album, Dunlea-Garcia: Music for Two Guitars, with Luke Dunlea, featuring works by Stravinsky, Biberian, Saumell and Machado, and has been spotted playing Irish Bazouki in a Ceilidh band and Mandola with Phoenix Mandolin Orchestra.
Brad Johnson is a Guitarist and Mandolinist from Preston in Lancashire, but is now based in Wimbledon. Primarily concerned with helping the Guitar expand into newer territories, Brad has worked with numerous composers including Gary Carpenter, Edward Cowie, David Gorton and Georg Friedrich Haas. He graduated with Distinction from the Royal Academy of Music in 2021, where he won the Blyth Watson Guitar Concerto Prize and recorded new pieces for the Academy's '200 Pieces' Bicentenary project. He has been a Yeoman of the Worshipful Company of Musicians having won the Ivor Mairants Guitar Award, and an IGF Young Artist.